More Website Templates @ TemplateMonster.com - November 14, 2011!
Website Design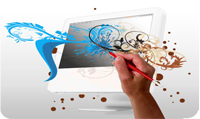 INNOVATIVE AND STUNNING GRAPHIC DESIGN
There's more to web site design than pretty pictures. Webster's dictionary defines "design" as "To formulate a plan for; devise." Truly great Internet marketing creative respects the four web design disciplines, by balancing look, usability, architecture and contingency design.
We work as architects to make sure that your site is organized to facilitate easy access to your content, no matter where your visitors are on the site. We create web sites that are colorful and compelling, while insuring that those sites will work for your audience.
1
Stunning Graphic Work
We want you to look organized, professional and fresh.
2
Marketing focused Designs
Our designs are customer-centric in every way.
3
Affordable Pricing
Great design does not need to be unattainable.